en
en
Denon to Unveil High Performance Audio Products at the 2022 Munich HIGH END Show
2022-05-19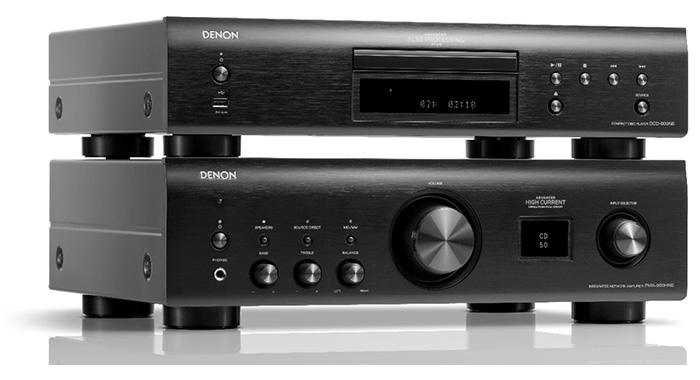 Eindhoven, The Netherlands – (May 19, 2022)—Denon®, the world's leading manufacturer of premium home entertainment and personal audio products since 1910, announced that they will be exhibiting at the 2022 HIGH END Show May 19th-22nd in Munich, Germany.
Denon will be demonstrating new high-performance audio products for attendees in Atrium 4.1 - Room F111. New products on display from Denon include two new integrated amplifiers - one with HEOS® Built-In network-based connected features, and a high-performance CD player.
"We are so excited to present these new products at the HIGH END Show in Munich," said Trip Randall, Denon Brand President. "Denon engineers have designed these components to achieve the perfect balance between outstanding performance for both digital and analogue sources with connectivity for a vast array of devices and media—providing music enthusiasts with the ultimate home entertainment solutions built with the care and attention to detail consumers expect from Denon. We are very proud of the new PMA-900HNE as the first standard size HEOS-Built-In 2 channels integrated Denon amplifier, it is the perfect starting building block for the new generation of music enthusiasts giving access to digital music and streaming with the superb Denon sound at an affordable price."
Denon Advanced Ultra High-Current UHC MOS-FET Integrated Amplifiers PMA-1700NE
In Munich, Denon will unveil the PMA-1700NE high-current integrated amplifier, delivering an outstanding audiophile-grade listening experience and 140-watts per channel. The PMA-1700NE offers connectivity for both analogue and digital sources. Vinyl record collectors will enjoy inputs for both moving magnet and moving coil phono cartridges. Others will appreciate the optical and coaxial digital inputs for other devices such as TV sound and media player integration. The PMA-1700NE also provides support for high-resolution digital music up to 11.2-MHz DSD and 384-kHz/32-bit from a computer using the USB-B input mated to a precise master clock and high-performance DAC that effectively suppresses jitter for best performance during digital playback. Outputs include A/B speaker terminals as well as a subwoofer pre-out.
Most importantly, the PMA-1700NE is beautifully built to last, featuring a vibration-resistant design ensuring maximum isolation and premium parts utilized throughout, including an electronic volume control delivering smooth, channel-linear adjustment of output levels and gold-plated speaker terminals and analogue source-inputs to prevent corrosion over time and maintain reliable, long-term connections.
PMA-900HNE Integrated Amplifier with HEOS Built-in Network
Another amplifier making its debut at the HIGH-END Show is the PMA-900HNE, Denon's first HEOS Built-In integrated network amplifier. Poised to be the center of the living room for watching TV, playing games or listening to music, the PMA-900HNE delivers an outstanding stereo listening experience for any occasion at an affordable price. This amplifier is equipped with an advanced high-current 85-watt per channel amplifier design and oversized power supply to ensure superb performance from any loudspeaker. It will deliver precise detail, imaging, and balance that music-lovers expect from Denon. The PMA-900HNE makes streaming easy thanks to easy Wi-Fi network connectivity, providing access to nearly limitless content from popular service providers as well as the convenience of AirPlay 2, Bluetooth, and multi-room audio capability through HEOS Built-in. The PMA-900HNE is compatible with high-resolution digital audio ALAC, FLAC, and WAV lossless files up to 24-bit/192 kHz, as well as DSD 2.8MHz and 5.6MHz tracks (the audiophile format of SACD).
DCD-900NE Precision CD Player With USB Playback
The Denon DCD-900NE CD player has been developed to complement the PMA-900HNE creating a full stack able to reproduce any type of digital music. Denon engineers have incorporated the most advanced AL32 Processing Plus digital signal processing and filtering that reproduces each recording with astonishing precision and clarity. The DCD-900NE features an integrated USB port that supports high-resolution playback up to PCM 192kHz/24bits and DSD 2.8MHz/5.6MHz. The vibration-resistant design isolates the player from unwanted energy, delivering only the purest audio signal in any system. When matched with the Denon PMA-900HNE, listeners will enjoy their CD collection like never before. With more than 110-year legacy of crafting premium audio components, Denon's unmatched excellence in both sound and build quality brings music from all sources to life like never before.
Pricing and Availability at authorized Denon retailers and on Denon.com
The PMA-1700NE will be available in June 2022 for EUR 1999, GBP 1699, USD 2099.
The DCD-900NE will be available in June for EUR 499, GBP 499, USD 529.
The PMA-900HNE will be available in July for EUR 999, GBP 899, USD 949.
For more information, visit www.denon.com.